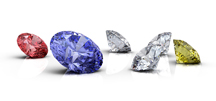 International Gem Society
Update December 7, 2021: IGS Vice President, Emeritus, Jeffery Bergman has been removed from his membership and credentials of the Accredited Gemologist Association for grevious ethics violations. This action taken by the AGA further underscores the issues of false credentials and ethics violations perpetrated by staff members of the International Gem Society. We urge extreme caution regarding all dealings with the International Gem Society.
WARNING August 1, 2021: IGS Vice President Jeffery Bergman's credentials confirmed as fake. This is the second case of a claimed educator at the International Gem Society offering false and contrived gemology credentials. This situation has been confirmed by a listing in the United States Federal Trade Commission ReportFraud.ftc.gov website, and further confirmed by the SSEF Gemmological Institute in Switzerland from which Bergman claims his titles. The SSEF has denounced Bergman's claim. This put Bergman along side IGS founder Don Clark as falsifying their gemological credentials in the International Gem Society website. More information is below in our regular report, and at this Academia website: Scam Alert Jeffery Bergman, and on this website: Jeffery Bergman website.
The International Gem Society promotes itself as the first internet-based school of gemology, having been founded in 1998 by Don Clark. The IGS has a world-wide membership and a wide variety of member services that make it one of the largest and oldest gem cutting and faceting organizations on the internet. Their education programs in gemology have been widely promoted by its owner over the years, however on closer inspection there are serious problems with these claims. First, founder Don Clark claims to hold the gemological title of "International Master Gemologist". Unfortunately, no one has ever heard of this title and a search for the gemological education organization that awards this title yields no results. The other problem is regarding their website where the credentials of instructors and other important information regarding their education program is noticeably missing. The operators of the website are now listed, but they appear to have no formal gemological credentials of their own. The greatest problem we found is that the "courses" offered by the IGS are not actually courses, but just a compilation of articles written by the now-retired founder as much as 20 years ago. This is not a "course" but rather a "reading assigment" with an exam at the end. The claim that this program somehow constitutes a "certified program" is false. This is a wonderful membership organization with a long history of member services, but as an education institute the IGS can only be considered for hobby level participation. Unsupported claims of credentials that don't exist, and a program that fails to offer any true verified courses from credentialed instructors, the claims of offering a gemology certification program are simply not true.
Rating System by Stars:





: Superior ____




: Excellent____



:Good____


:Average____

:Needs Improvement
Overall Rating: Not recommended due to false credentials.
Tuition Cost: Not recommended due to false credentials.
Quality of Course Programs:Not acceptable due to false credentials.
Quality of Instructors: No stars due to no instructors listed.
Course Updates and Freshness: No Rating
Instructor to Student Ratio: Unknown
Depth of Course Programs: No Rating
Depth of Practical Programs: None
Reported Quality of Student Experience: Not recommended to due false credentials
Availability of Assistance for Online Students: No Rating
Student After-Graduation Support : None